Free-spirited working man Gregory Parker is held on a $60,000 bond for a 1/2 penny a day administrative offence Monday night.
By David Tulis / NoogaRadio 92.7 FM
A Tennessee highway patrol trooper Dale Herring seized Mr. Parker of Rossville, Ga., in downtown Chattanooga on state highway 27. He got off on the 25th Street exit next to the Raceway gas station.
According to a Facebook video by Mr. Parker, the trooper appears at the window and immediately smashes it and reaches inside for the door handle to open the door, demanding why the man in the car didn't immediately stop when he turned on his blue lights to signal his arrest.
In Tennessee, every "traffic stop" is an arrest for 4th amendment purposes, according to State v. Raspberry and State v. Gonzalez.
The trooper drags Mr. Parker out of the car as the phone camera is thrown into the seat, aiming upward to a ladder jutting over the pickup truck cab front window.
The bearded Mr. Parker is a father, with wife, Kasee, starting the labour process of delivering their second child.
Mr. Parker has successfully deflected prosecutions against his right to travel in sessions court in Hamilton County, saying he has refused to expunge the cases so that officials might be aware of his status as a free person under the Tennessee constitution and a user of the public road by right as a member of the public.
The prosecution of Mr. Parker — with 14 charges listed as criminal accusations against the peace and dignity of the state — is through the commercial trucking law. Chattanooga city government, the Hamilton County sheriff's department, city of East Ridge, city of Red Bank and state government have been under notice since February or March 2018 about the disability in the law. Law enforcement officers routinely ignore these limits and harass the travelling public, despite their employers having been put on notice regarding the constitutional rights of the people, without rebuttal.
In conversation overheard by the still operating smartphone, the officers apply a slander upon Mr. Parker, that being that he is is a "sovereign citizen." That slur is common. It was used was used by a Georgia prosecutor in an ex parte meeting with a judge in one of Mr. Parker's Walker County, Ga., cases. It is a slur often upon people with even a slight constitution-oriented rhetoric or interest.
But we have extensively reported that the problem of sovereign individuals is less occurring among private citizens, as among departments and their officers, who believe they are above the law — in Tennessee, that being 40-7-103, the warrantless arrest statute, and the trucking and shipping regulations at Title 55 and 65, chapter 15. Police, deputies and troopers routinely violate the conditions in these laws.
Fourteen charges were initially listed, and Mr. Parker says the number is six:
➤ Retaliation vs. judge juror and officer, under a F$5,000 bond
➤ Disobedience to officers directing traffic, own recognizance bond
➤ Driving on revoked suspended or canceled license, F$2,500 bond
➤ Resisting arrest, F$2,500 bond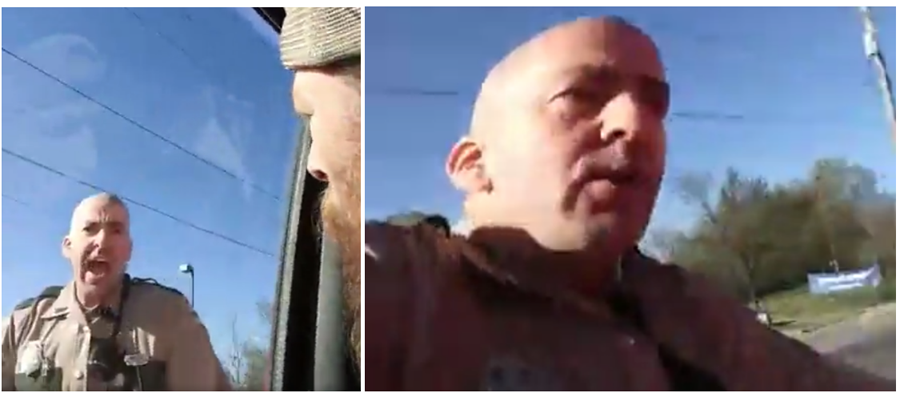 ➤ Reckless endangerment F$25,000 bond
➤ Evading arrest, F$25,000
Mr. Parker says he has an Aug. 3 hearing in front of sessions court judge Lila Statom, who should be able to protect him. "Now she is in a position she can be accountable to her duty, because this stuff has already been in front of her. We've already established this," Mr. Parker says. "It's not new stuff they've not heard about. It's been going on three or four years now."
In three cases Mr. Parker says he has had three traffic charges dismissed.
An email sent Tuesday to Hamilton County chief magistrate asking about the F$60,000 bond was not answered within deadline today for this story.
Wes Moster is the spokesman for the department of safety and commissioner Jeff Long. I sent the following inquiry Friday, unable to reach him by phone to get Mr. Moster on the show.
Inquiry to safety department
Dear Wes, I would like to ask you about department of safety's arrest of Gregory Parker by a trooper on March 29 in Chattanooga on highway 27.
Dale Herring smashed Mr. Parker's window and dragged him from his pickup truck and pressed 14 charges against him. The charges are now at six, according to Mr. Parker.
➤ Retaliation vs. judge juror and officer, under a F$5,000 bond
➤ Disobedience to officers directing traffic, own recognizance bond
➤ Driving on revoked suspended or canceled license, F$2,500 bond
➤ Resisting arrest, F$2,500 bond
➤ Reckless endangerment F$25,000 bond
➤ Evading arrest, F$25,000
Attached are screen grabs from the Facebook video. https://www.facebook.com/gregory.justin.parker/videos/2290148907782635
I would like comment from you about this arrest, given that the department has been under Tennessee transportation administrative notice since March 2018 and is on awares of the scope of TCA Title 55 and Title 65, chapter 15, carriers.
Questions and press inquiries are as follows:
Is the arrest legal in light of TCA 40-7-103(c)? The statute gives four instances in roadway arrests of arrest by officer without a warrant in hand, and each has as a prerequisite a car crash, with attendant fact circumstances involving DUI or flight. Were those requirements met in this arrest?
2. License matters are "purely administrative," and not criminal, and administrative disputes are subject to the exhaustion of administrative remedies under UAPA. ‡ On what authority does your department arrest people, smash their windows, drag them out of their conveyances, put them into jail and charge them under $60,000 bond? These are administrative matters between the department and licensees —and Mr. Parker is not a licensee (and wants not to be one).
3. A Tennessee driver license costs $19.50 to renew and it remains "valid" for eight years. That's 2,920 days for a Class D license, or 0.6678 cents a day. Slightly more than half a penny per 24 hour period. Is it proper for your trooper to obtain a bond of $60,000 for an offense in which the alleged injury to the state is slightly more than half a cent per day?
4. Did your officer search the car after Mr. Parker insisted he refused to give consent?
5. Given notice to the department, unrebutted, and given that Mr. Parker gave notice to the department with words on the back of his truck, is the arrest lawful? (The notice says something like "private use.")
7. Is the arrest a violation of TCA 39-16-402, official misconduct, which is made operative by officers knowingly and intentionally violating someone's person and property in violation of law?
8. Finally, I'm demanding copies of all videos of this arrest, and all recordings made by your officers in this arrest.
The law on warrantless arrest is something i've extensively reported on, and have put city of Chattanooga and Hamilton County on notice about it April 15, 202, with an eye to reducing abuses of it. That notice is attached.
I look forward to speaking with you about this story. Respectfully yours, etc.
‡ 10/15/74 McMINNVILLE FREIGHT LINE, v. Hon. Z. D. ATKINS,
[22] This Court held in Hoover Motor Express Co. v. Railroad and Public Utilities Commission, 195 Tenn. 593, 261 S.W.2d 233 (1953), that the predecessor in name of the present Tennessee Public Service Commission is an administrative board and not a court; that the grant or refusal of a license to use public highways in commerce is purely an administrative question. The fact that proceedings in quest of a certificate from the subject Commission bear, in part, similarity to proceedings of quasi-judicial bodies, as urged by appellant, does not alter the holding of Hoover, which has been reaffirmed in a number of subsequent cases.
Attached
— Tennessee transportation administrative notice
— Glass smashing screen grabs, 2x